Cathy's Events
Listening Session Sunday 11/12
I hope you are all enjoying the beginning of Fall and staying warm in the cold weather. Representative Boesenecker and I will be hosting another Local Legislator Listening Session next Sunday, November 12th from
2:00-3:30 pm at the Harmony Libary on the corner of Shields St. and Harmony Rd. at 4616 S Shields St, Fort Collins, CO 80526.
These listening sessions are a great way for us to hear from you about local topics and ask any questions you have that Rep. Boesenecker and I may be able to help out with.
Cathy's Legislative Priorities:
Supporting Public Education
Mitigating Climate Change
Protecting Reproductive Rights
Increasing Affordable Housing
Access to Affordable Healthcare
Access for Mental Health Care and Substance Abuse Treatment
And Listening to Constituents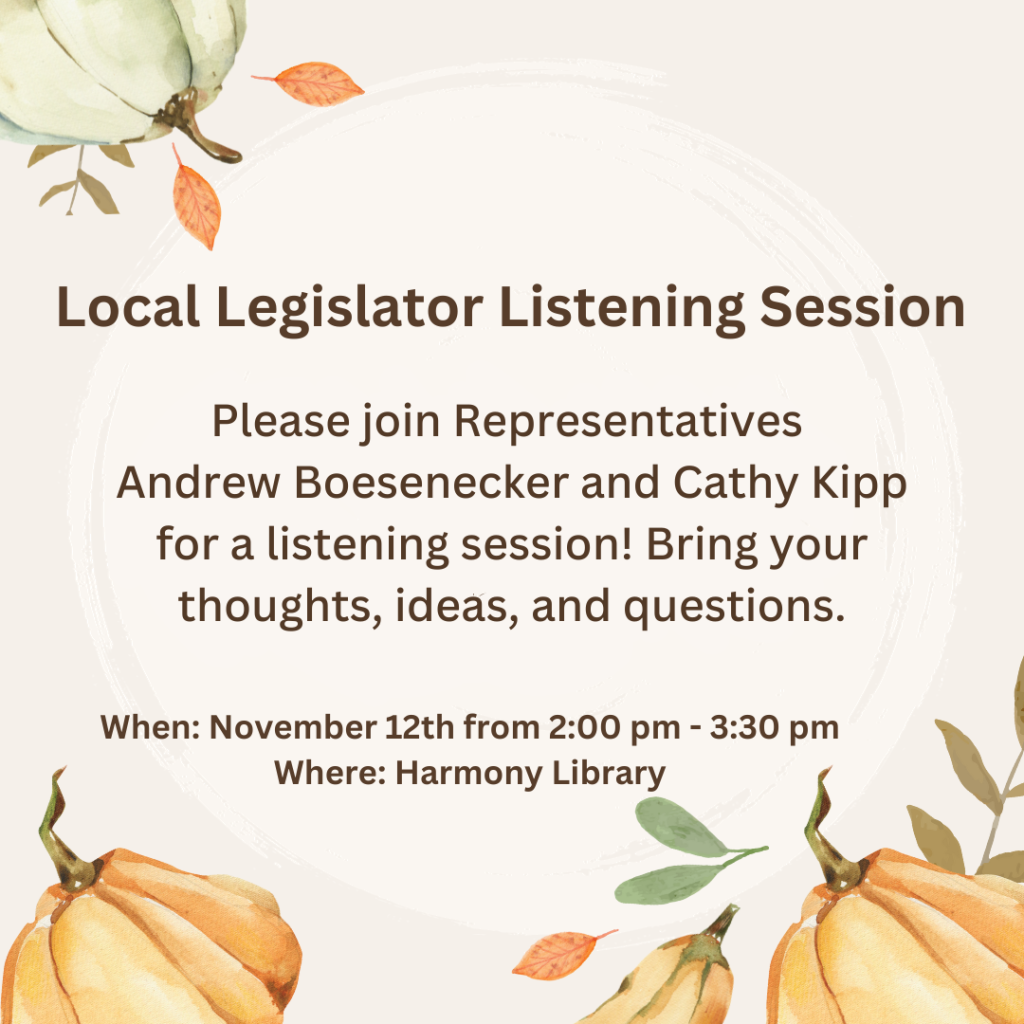 2023 Legislative Session
To see what Cathy worked on in the 2023 Colorado Legislative Session click here.
To see bills and accomplishments from previous sessions click here.
Contact Cathy:
I would love to hear about what you think is important to Colorado. Please don't hesitate to contact me at cathy@cathykipp.com or give me a call 970-219-5267. Thank you!
2023 Issue Forum Recordings
To view other recorded forums we have held go here to see them on my youtube channel
"Rep. Cathy Kipp from Fort Collins has taken on a wide range of legislation with quiet and effective determination. She ran and passed thirteen House bills, eleven of which were bipartisan. Her interests include improving high school graduates' opportunities, helping juveniles through the justice system, protecting tiny-home and mobile-home consumers, monitoring prescription drug pricing, protecting children in dependency and neglect cases, saving insect pollination, securing educator data privacy, putting the state on a single "time" program, and protecting public schools from unjust and inaccurate standardized-test-based-performance ratings. She was a technology professional and a school board president. She works across the aisle and has a progressive record. Her results are the outcome of a leader."

Paula Noonan, Colorado Politics, Oct 13, 2022
---